As the automotive industry races toward electrification and autonomy, vehicle manufacturers ought to be fast-tracking the development of digitally-enabled, flexible and integrated electric vehicle /autonomous (EV /AD) platforms that can ultimately transition into mobility intelligence platforms. But are they? Indeed, it's not clear that the industry – notorious for being more conservative than Sean Hannity – is actually willing to go fast and furious on platform development strategies.
However, the breakneck speed of change has left them with little choice. As they begin to mull different approaches to EV/ AD platformization, it is critical that they keep three key platform capabilities at the forefront—fail operational, integrated, and modular. Embedded in this is the astonishing idea that the long familiar physical platform will cede way to a digitally powered counterpart.
To explain this complex transition of vehicle development platforms from a physical to a digital avatar and towards realizing a mobility intelligence platform, I will use the simplest of analogies – the ubiquitous children's skateboard. In this case, think of the platform not just as a board with two wheels but as something much more complicated. Consider that it has hardware, needs to be electric, and then autonomous. Now put this into a competition with other players and that's where it becomes a mobility platform. This is a platform that doesn't just support only one solution but many parts of a solution from which a child (or the automaker, as the case may be) can choose.
Incremental Innovation Has Its Limitations
Today, automotive manufacturers are trying to accelerate the introduction of electrified vehicles into their portfolios by either modifying or reengineering their existing platforms into electric / electrified equivalents. However, this strategy of incremental innovation has fundamental limitations; an adapted platform is simply unable to match the advantages offered by a dedicated electric / electrified platform. This  could be in terms of improving cost efficiencies, being scalable in order to work with other applications and having the ability to support functionalities outside of electrification, including automation, next generation connectivity features or even new business models.
That's why I believe that the next generation of vehicle platforms that automakers should be developing – and which they are not currently— are platforms that are purpose-built for EV production. Moreover, with their eyes firmly on the future, such electric platforms need to be designed and built to enable automation as well.
Fail Operational Redundancy
Any next generation platform that enables electrification and automation should also possess critical 'fail- operational' or redundancy functionalities that promote driving safety. This means enabling redundancy functionalities for multiple core chassis or safety related applications. Such redundancies will likely be introduced gradually, perhaps beginning with steering, before embracing many other chassis functions like braking and suspension.
Vehicle platforms are conventionally viewed from a hardware perspective, a physical frame – and here's that skateboard analogy again – on which are mounted axels and batteries (or wheels in the case of a skateboard!) within the frame. However, the move towards electric and autonomous capabilities will be accompanied by core software capabilities, including electric/electronic architecture, sensor integration capabilities, and basic communication protocols. These are the small complexities for which platforms will need to account.
In this context, using the prism of a physical approach to EV/ AD platform development will be a very narrow, linear and simplistic way of visualizing what the platform of the future will be. Instead, if the ingredients are right—and I believe they are—then I expect exponential change in platform development strategies. Here, hardware will be only a part of the whole platform puzzle.
If automakers are willing to use the competencies at their disposal, then the natural culmination will be the emergence of personal built vehicles (PBV) anchored in the software that goes into enabling fail operational redundancy capabilities. The PBV ecosystem characterized and facilitated by the concept of the physical manifestation of the platform will be replaced by a digital manifestation or what I like to call 'mobility platform'.
Unless automakers can crack the mobility platform puzzle—and it will be a long, hard and complicated journey – then the rich vein of service-based revenues that futurists have long touted, will remain unexcavated.
And what will ultimately make all this possible are scalable, modular EV/ AD platforms that allow plug-and-play flexibility through digital "hats".
Modularity, Scalability And The Concept Of Digital 'Hats'
The traditional definition of a 'hat' in the automotive industry has been of a physical design and interface on which the platform gets mounted. The disruption that the automotive industry now faces is the transformation of these physical 'hats' into digital 'hats'.
A simple analogy here would be wanting to upgrade to a particular functionality on your phone. Earlier, this would probably require you to buy new hardware. But the functionality I envision for the future is being able to plug out your existing camera and plug in a new, improved camera… without changing any of the essential building blocks of the phone. For me, this is really the crux since such an option would be possible only if the phone was enabled as a modular, flexible platform.
And that's exactly how I foresee the concept of digital 'hats' playing out within the automotive arena; EV/AD platforms that are modular, flexible, scalable and digital, with the ability to support multiple digital 'hats' on top.
Modularity has an important role to play here. The principal aspect of modularity is that it will allow automakers to be flexible with the cockpits and the electronic units they want within the vehicle. Depending on the use case that the vehicle goes into, the platform can be digitally customized and this modularity is enabled only because it is created as a plug-and-play flexible platform.
The big challenge, of course, is that modularity is not easily achieved by the automotive industry, particularly because of the way it builds its products. It's not something that most players can do by themselves. While automakers are very adept at tailoring solutions for specific vehicles and applications, they lack the expertise to build scalable platforms for an age of EV/AD.
Again, while there is undoubtedly a level of modularity in automotive manufacturing, it's not the same case on the electronics side. And here's where exploring a range of new business models will become important.
Who In The Market Is Doing What?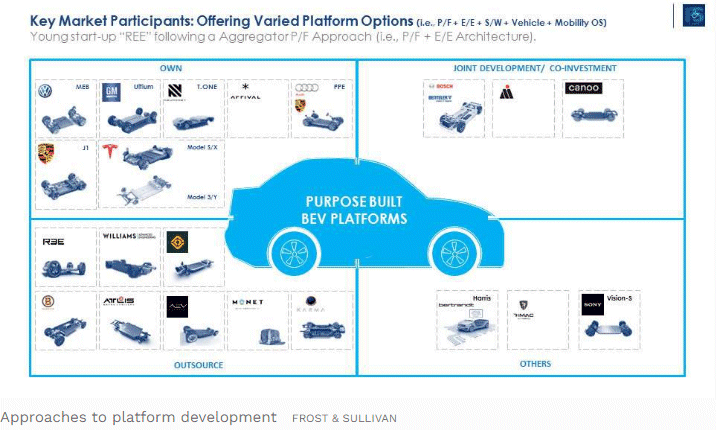 Automakers, start-ups and Tier 1s are all in the platform development game. Some business models focus on complete control and ownership by moving the development in-house, others at co-creation by using it as an innovation bed to attract interest and investment from other partners, while yet others are doing it not necessarily to be part of the market but to sell it, i.e., licensing the technology.
While each approach has its own set of advantages, the model that I think will and, indeed, is already jump-starting the move toward an integrated mobility platform is co-creation. It will speed up go-to-market by drawing on the complementary strengths of each of the partners.
With EV/AD upon us, it's time, really, that automakers got fast and furious with their skateboards.
This article was written with contributions from Benny Daniel, Business Unit Leader – Mobility, Aerospace & Defense, (North America) & Vice President Consulting – Mobility, Frost & Sullivan, and Arunprasad Nandakumar, Associate Director, Digital Products – Mobility, Frost & Sullivan.
Article was originally published on Forbes.com