First and foremost, it is clear that the UK and Israel stand against relatively different threats. While Israel faces more immediate and territorial threats from enemies beyond its border, the UK deals with adversaries that are not necessarily geographically close but have superpower military capabilities in varied warfighting domains, such as Russian and Chinese hypersonic missiles. In addition, the UK faces harsh challenges in the Cyber domain and in the Maritime arena, reflecting the need for a dominant and advanced Navy. As for Counter-Terrorism (CT), the British Army now focuses on a Special Forces paradigm for tactical and lethal invasions, rather than on the traditional use of conventional brigades.
In other words, the UK government focuses on reshaping its army for the age of networked warfare, allowing better-equipped soldiers to deploy more quickly, and in strengthening the ability of Special Forces, to operate covertly against sophisticated adversaries.
To put this into context, the British Armed forces are about to enhance its Artificial Intelligence (AI) and Machine Learning (ML) intelligence capabilities; as well as increasing its number of nuclear warheads,  boosting its cyber capabilities with its allies (including Israel), and investing in developing hypersonic missiles. This will be partially financed by a reduction of its Army personnel to below 80,000 by 2025, and letting its Aircraft Carriers continue to have insufficient British F-35's to be fully operational.
In addition, among the efforts likely to benefit from the commitment of new money are the Tempest future combat air program; a number of shipbuilding projects, including a fleet of logistics ships; and various space and cyberspace assets.
In the maritime domain, as part of the military restructure, the Royal Marines will be transformed into a new Future Commando Force, taking on many of the traditional tasks of the Special Forces – the SAS & SBS (Special Air Service, Special Boat Service).
Included in Britain's transformation plans is the creation of a Space Command capable of launching a rocket from a site in Scotland by 2022, as well as a new agency focussed on artificial intelligence. The creation of Space Command is also well in line with what the country's allies, especially the U.S., have done in creating an entirely new branch to oversee space operations. Still, it does underscore how vital, and contested, space already is for military operations for the UK and its allies and partners. This domain is only set to become more important as time goes on.
In summary, over the past year, the UK Army has been preparing for a radical transformation. It wants to embrace new technologies – from drones and robots to AI, while reducing traditional long-standing land capabilities. The perception at the heart of this agenda claims that by harnessing technology, the Army is able to achieve the same effect with fewer people. It might appear to be a contradiction, but the Army believes even if it's smaller, it can still have a bigger presence around the world. It's all about trained, highly sufficient and effective small and lethal armed forces, focussed on tactical military capabilities for short military intervals against asymmetric adversaries supported by supplemental strategic capabilities that enhance British military projection for national, European and global needs and interests.
Whereas the UK map of threats is more conventional, the Israeli Defence Force (IDF) needs to stand in front of different adversaries with varied asymmetric capabilities such as massive all-layer-rockets and missiles threats (from potentially nuclear ballistic missiles to tactical mortar shells);   short-range threats (drones, hostilities on borders, etc.); cyber threats; a challenging Maritime arena, including underwater; and a heavy, well-equipped land-armoured capability on the ground; and beneath the surface.  All those demand a different posture than the UK's in all five of the warfighting domains.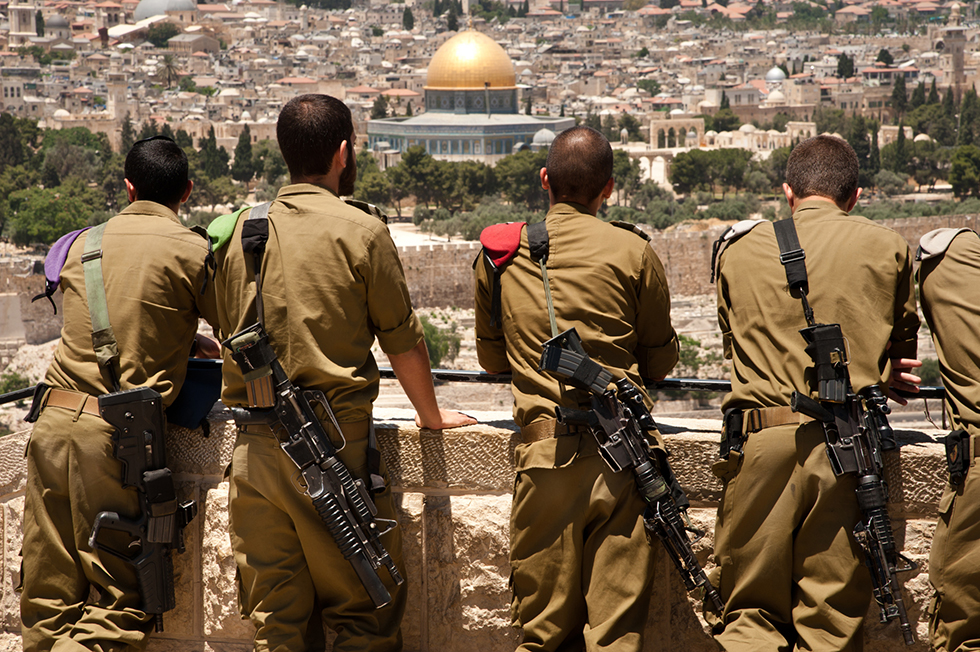 The "Momentum" IDF five-year plan now defines victory as the rapid destruction of enemy capabilities. The systematic and speedy removal of such capabilities, be they command posts, rocket launchers, weapons storehouses, enemy command levels, or combat personnel themselves, is now deemed to be much more important than the seizure of territory. Of far greater importance is the quantity of enemy capabilities the IDF is able to destroy on the ground, from air and sea, as well as the time it takes to do so, and reducing the casualties and costs that are involved. The ultimate objective is for a decisive battlefield victory against capable adversaries, described as diffuse, rocket-based terror armies. These armies, although not well financed, or technologically advanced, are making full use of the fire dominance era in order to attack Israel and to undermine its strategic stability through a combination of the advantages of a defender in urban areas and the advantages of an attacker using massive, and precision stand-off fires.
"Momentum" envisages the creation of a sharper, more lethal IDF in which field units receive the wealth of capabilities to strike the enemy. Change is happening, as the IDF identifies new opportunities that lie in the recent developments in the digital revolution, autonomous and "smart" transformations that allow the nation to reimagine warfare. Therefore, the challenge of the "Momentum" plan is to match the IDF's might to the threat posed by terror armies, and to enable Israel to go on the attack; back to short wars, clear victory, and the removal of the main military threat of rocket fire on Israel.
Three main efforts guide Momentum's force build-up program. The first, a multi-domain ground maneuver capability, meaning IDF field units would be able to operate simultaneously on the ground, underground, in the air, in the electromagnetic spectrum, and in the cyber domain. A second axis is based on upgrading Israeli firepower strikes. A third axis is designed to boost defences for the Israeli home front using other enablers (or force multipliers) which include air superiority, intelligence superiority, and continuous functionality under fire, has also been formulated.
As for battlefield, the IDF is about to dramatically upgrade its efficiency. In essence, this means a battalion will be digitally connected to all the relevant forces in its sector and the Intelligence Directorate. A company commander will be able to activate their own drones, and use a digital command and control network to activate tanks, helicopters, or electronic warfare units immediately upon the detection of time-sensitive targets. This is accomplished nowadays by taking full advantage of new sensors, AI and ML technology to regain a qualitative advantage over its adversaries that has been eroding.
Thus, in the next few years, the IDF will be a significantly more lethal force as a networked war machine that can destroy enemy capabilities in record time, and with the lowest possible casualties. Its battalions will be far more independent, with its own C4i and intelligence-gathering envelopes; and an air force that can launch waves of fire strikes that go beyond any current capabilities, including long-range strikes.
Thus, "Momentum" balances the readiness and transformation challenges, and defines the required mix between offensive investment (70%) and defensive investment (30%); and combines "multi-dimensional" combat, in order to increase the deadliness of the IDF's land units. These include the Merkava Mark IV main battle tanks, the Namer Armoured Personnel Carrier (APC), which offers a new and much safer dimension to land warfare, small armed drones, and urban warfare robots.  In addition, the IDF plans for large-scale acquisitions of new missiles, drones, armoured vehicles, air defence batteries, helicopters, and ships alongside the upgrading of existing equipment, requiring a significant budget increase. On the other hand, the IDF is disbanding an armoured brigade, and cutting Army reserve personnel. With regard to Iranian threat, two air squadrons operating older planes will also be replaced with new ones flying more advanced aircraft, though it is not yet clear if these will be F-35s or upgraded F-15s.
In the coming years, the Air Force will replace its fleet of 50-year-old Sikorsky CH-53 heavy transport helicopters with CH-53K King Stallion, parallel to F-35 third fleet that will be deployed in the coming years. The IAF Air Defense Command will also be restructured as a nationwide air defense system with the acquisition of additional batteries, and improved interceptor missiles. Their deployment will be largely in fixed locations as their operation will be centralised in one place (e.g. a new tier of air defence array: short-range Iron Dome, mid-range David's Sling, and long-range Arrow systems). The "Momentum" Plan does not, however, deal extensively with the Israeli Navy. One aspect of that branch that is affected, however, is the acquisition over the next three years of four new Sa'ar-6 missile ships, which will be tasked with defending Israel's nascent natural gas extraction platforms.
In summary, while sharing similar values on a wide range of national security interests, the UK and Israel have remarkably different military posture.
The UK Armed Forces Review focuses on increasing AI capabilities, digitalisation, advanced weapons systems, enhancing Special Forces and cutting land forces; all in order to preserve agility, deterrence, and a competitive military edge.
On the other hand, the IDF address the challenge of varied different threat compared to the UK by taking full advantage of the emergent technological potential in order to make the IDF a "smart war machine" in all military domains. The "Momentum" Plan calls for strengthening the operational capabilities of the regular army, upgrading the quantity, and quality of armaments for the Air Force, and turning the IDF into a deadly, high-tech force that fights in a unified manner at sea, on land, in air and in cyber and electronic warfare.  All in all, it's about changing and adjusting military posture as new threats evolve, both in Israel and in the UK.