Current State of IoT
Frost & Sullivan estimates that in 2022 there were 35.37 billion Internet of Things (IoT) devices globally.11 Frost & Sullivan: 2022 Update—Total Internet of Things (IoT) Device Forecast, 2018–2027 Over 51% of the total connections were related to building automation, security, and surveillance applications. The remaining connections were fragmented into multiple sectors and applications, including factory and industrial automation, portable asset tracking, and fixed-asset monitoring.
IoT Beyond 2023: Key Forces Behind the Scale
With 41.76 billion active IoT-connected devices forecasted globally in 2023, Frost & Sullivan expects increased demand for IoT solutions, driving an 18% growth in connections compared to 2022. The main drivers for this expansion include the acceleration of automation processes, companies continuing their digital transformation journey, the recovery of value chains after the economic impacts of the COVID-19 pandemic, and the rollout of 5G connectivity networks.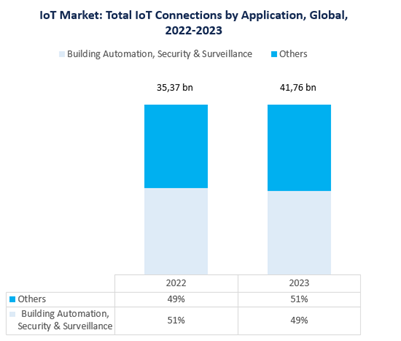 Security and Surveillance are Applications Leading the Adoption of IoT Technologies
According to IT decision-makers globally, 22 Frost & Sullivan: The Current State of the Internet of Things—Continuity and Change, Commonalities, and FragmentationIoT technologies are gaining traction for security purposes, such as protecting critical assets across industries. IoT-based smart security systems can make places safer by recognizing people and objects entering and exiting buildings, keeping track of a facility's status, and sending out security alerts and emergency replies. Edge computing and artificial intelligence (AI) are becoming indispensable technologies for surveillance systems that enable image monitoring and data processing.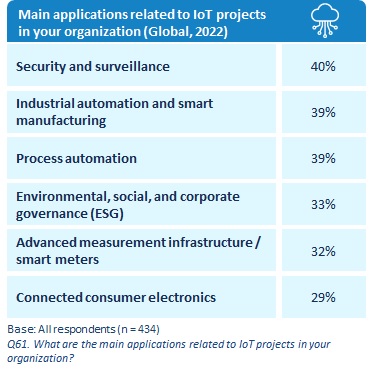 While organizations are becoming digitalized by incorporating ICT technologies such as cloud, edge computing, IoT, and big data, the risk of cyber-attacks escalates. For businesses looking to preserve their brand reputation and renew customer connections, having a strong cybersecurity plan to safeguard data and a significant number of IoT devices distributed across verticals will be essential.
IoT is Gaining Momentum for Allowing Industrial Automation and Smart Manufacturing Processes
In 2023, organizations will accelerate the implementation of industrial IoT concepts and solutions to streamline operations, improve productivity, enhance product quality, and reduce costs. Moreover, digital twins (DT) will become popular in the Industry 4.0 approach thanks to data analytics and IoT, which provide the tools for applications like predictive maintenance and fault detection.
Along with being a key enabler of automating manual processes, IoT will benefit organizations in improving customer experiences, such as triggering automated responses in electric vehicles with advanced driver assistance systems (ADAS). Innovative technologies like 5G, edge computing, and smart tire sensors are implanted to detect dangers and avoid collisions.
IoT will Play a Major Role in Metaverse and Immersive Experiences
The demand for immersive experiences will open new revenue streams for technology providers. In 2023, there will be a growing need for 5G networks and edge computing to enable more vivid augmented reality (AR) and mixed reality (MR) experiences powered by ultra-low-latency levels. New verticals leveraging these technologies are gaining ground, such as education and learning.
IoT will become important for the metaverse to interact between the real world and the virtual world. IoT providers should prepare to offer IoT software, sensors, and devices for integration into the metaverse. From 2023 on, IoT will catalyze a more immersive world.
Multi-access Edge Computing will be at the Forefront of Innovation
The global multi-access edge computing (MEC) market is growing as telecom operators and cloud providers launch commercial services and begin to scale. 5G technology offers lower latency and higher capacity. Together with MEC, it brings computing power closer to customers, enabling new applications and experiences. According to Frost & Sullivan,33 Frost & Sullivan: Global Multi-Access Edge Computing Growth Opportunities in 2023, edge computing will generate $3.71 billion in revenue, a 172% growth compared to the previous year.
As clients seek local data storage and real-time processing to support latency-sensitive applications like AR, MR, extended reality (XR), DT, driverless vehicles, and more, the deployment of private wireless networks and edge computing will increase.
Industry IoT Trends Include Sustainability, Digital Payments, and LPWANs
CEOs will use connected devices in 2023 to gather and analyze information about environmental factors and activities that businesses can employ to become more ecologically friendly. IoT sensors can remotely monitor operational and environmental factors like traffic flow, noise, pollution, temperature, humidity, energy use, room occupancy, machinery status, and air composition.
IoT will also make large-scale projects in the utilities, agriculture, and supply chain verticals a step further thanks to low-power wide-area networks (LPWANs). However, in 2023 and beyond, companies will adopt an innovative approach with the complementation of LPWAN technologies, such as cellular and proprietary, and other IoT technologies, like IoT satellite connectivity.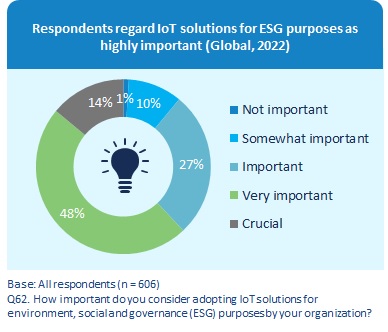 Finally, as cities become more digitally integrated, the use of digital payments will increase, and IoT will play a crucial role. The growth of IoT payments, which involve transactions carried out by internet-connected devices with a certain level of autonomy, will occur across all industry sectors. Digital technologies, including IoT sensors, AI software, visual computing, machine learning (ML), and networking, will become more popular as retailers implement contactless technologies, self-checkouts, or go cashierless.
More information can be found in the recent publication: "Internet of Things (IoT) Predictions Outlook: Top 10 for 2023" by Frost & Sullivan on November 25, 2022.