Frost & Sullivan and Sustainable Space Economy co-hosted the first cohort of companies – AiDash, Aurora Propulsion Technologies, Kayhan Space, OKAPI:Orbits GmbH and Space Wales – at the first Sustainability Pavilion at Paris Space Week 2023.
We are grateful for the support from Andrea Vena, Chief Climate and Sustainability Officer at European Space Agency – ESA, who delivered a keynote on 'Space and Sustainability: The Role of the European Space Agency in the Space Ecosystem', and for John Whalley, who delivered a keynote on behalf of Dr. Rosie Cane on 'Future of Sustainability in the Space Economy: Space Wales—Leading the Way on Space Sustainability'.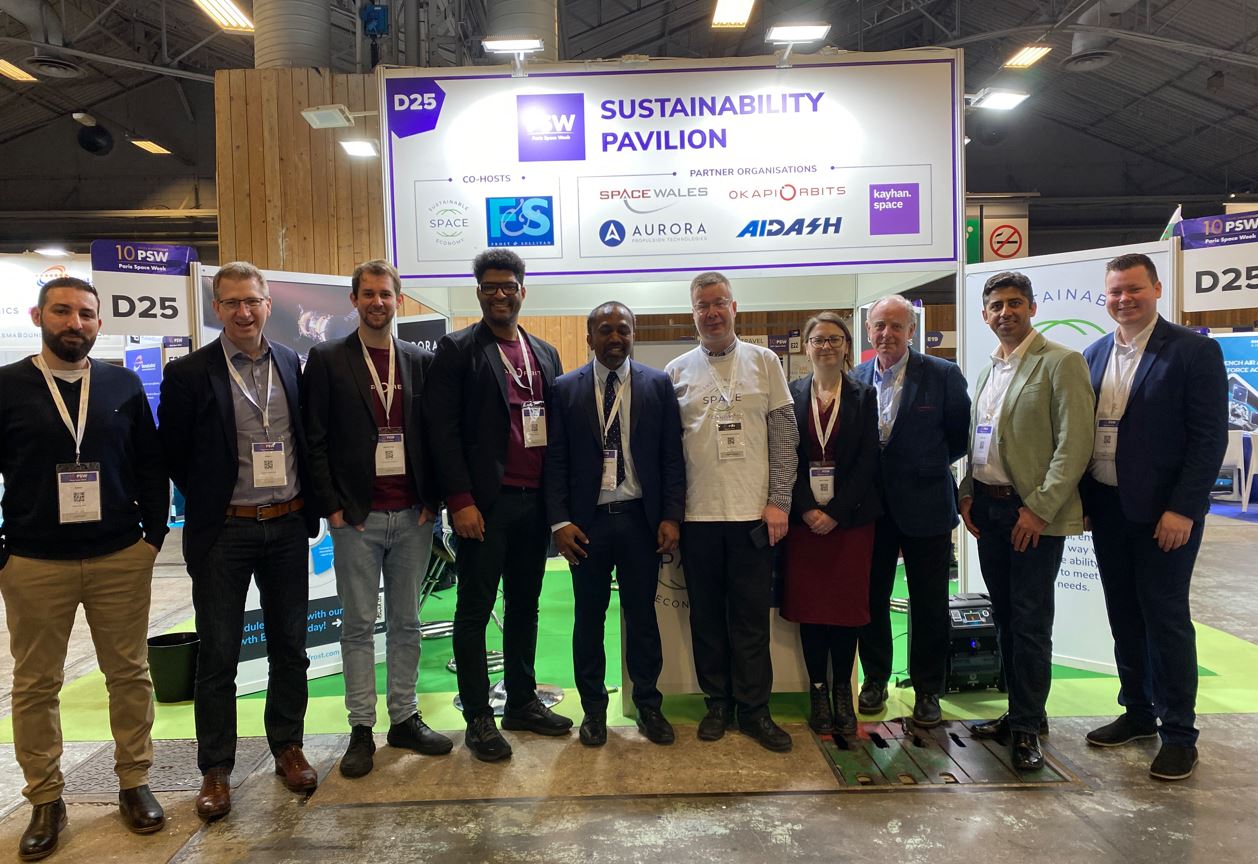 At Frost & Sullivan, we believe the space economy has the potential to deliver scale, speed, and savings on climate and sustainability goals. We see that sustainability and the circular economy are driving growth opportunities for water, energy, and resource regeneration/recovery across cities and industry value chains with interdependence on critical resources in an increasingly connected world.
In conjunction with our Sustainability Pavilion at Paris Space Week, we hosted a panel discussion, 'Space and Sustainability: Key Challenges and Innovative Solutions that are Driving Growth Opportunities for Sustainability in Space and on Earth'. The panel was represented by Dr. Stephen Marland from AiDash, Kristjan Mihhels from Aurora Propulsion Technologies, Dr. Siamak Hesar from Kayhan Space, Njord Eggen from OKAPI:Orbits and John Whalley from Space Wales.
 Listed below are our top three takeaways from Paris Space Week.
#1 – Systems Thinking Built on 6 Ps—Policies, Processes, People, Product, Partnerships and Platforms
The space economy must be addressed with a "systems thinking" approach to ensure it addresses key challenges and delivers value for stakeholders in the upstream, midstream, and downstream of space with a focus on the key pillars of 6Ps—policies, processes, people, product, partnerships, and platforms. Vena highlighted the role of the European Space Agency in shaping the policy on sustainability in space and establishing the Statement for a Responsible Space Sector in November 2022, signed by 22 organisations with representation across the value chain.
We also learned about Space Wales, which developed a roadmap to be the first sustainable space nation by 2040 and will drive this across the 60 members with strong representation across the value chain of the space economy. This has set in motion the focus on policies that will begin to redesign processes, influence people and products, and drive opportunities for partnerships as organisations come together to pursue their sustainability goals and circular economy-related targets. The final aspect around platforms will be important to drive monitoring, reporting, and validation of ESG with the space economy and to look at platforms as a business model to drive scale, customer engagement, and productivity.
#2 – Scale, Speed, and Savings from Earth Observation to Drive Sustainability on Earth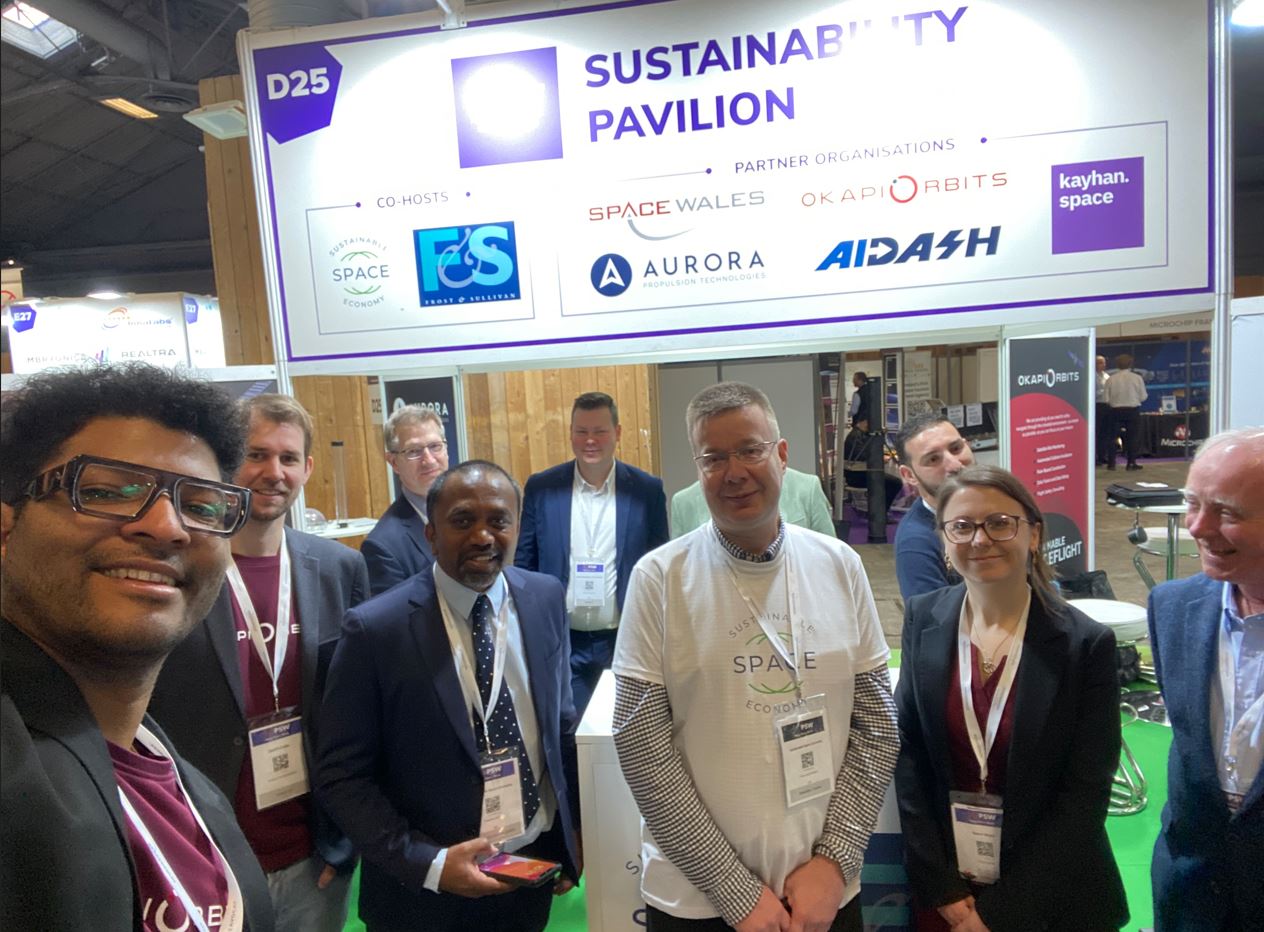 The recent Global Risks Report of the World Economic Forum highlighted the potential of a polycrisis, the acute challenges we will face with key resources like food, water, and minerals, and that climate-related risks are the biggest threat and need action at scale. The vision of the Sustainable Space Economy (SSE) is to improve the quality of life on earth by utilising space in a sustainable manner. Vena highlighted that space would be essential in accelerating a carbon-neutral Europe and provided a few metrics, including that the global space sector has the potential to contribute about € 22 trn by 2030 (WRI) and its role in sustainable food production can deliver a carbon footprint reduction of about 10% (JRC). Other key areas where space can drive sustainability are facility and asset management, procurement, and supply chains.
Our recent thought leadership report, Climate-smart Cities—Growth Opportunities in the Global Real-time Monitoring of GHG Emissions Market, highlighted innovative satellite-based solutions. AiDash highlighted its pioneering solution for biodiversity and vegetation mapping for cities, and Marland highlighted the significant cost savings from "carbon in-setting" for cities by investing, protecting, and monetising vegetation cover. Whalley and Cane explained that most of the upcoming nano/microsatellite
s will be for earth observation and will have a strong compounding contribution to the broader space economy in advanced manufacturing and instrumentation. We have also analysed space technology for water asset risk monitoring and resilience and tackling leakage in water utilities.
#3 – Safety in Space will Need Stronger Governance; AI-driven Solutions can Drive Scale and Accessibility and Deliver Productivity Benefits
Frost & Sullivan published a thought leadership report, Global Space Debris Removal Service—Growth Opportunities, in March 2022. It highlights the current problem of space debris, which was further highlighted in the keynotes by ESA and Space Wales. Vena from ESA highlighted that if left unaddressed, it could threaten the use of space by current and future generations. There is a strong need and push for better regulation of space safety and sustainability, encompassing all steps: pre-launch, launch and during operation in orbit, and safe and secure de-orbiting. We heard from Mihhels, of Aurora Propulsion Technologies, about its propulsion technologies of miniaturised thrusters that drive sustainability for propulsion and the plasma thread de-orbiting solutions. Mihhels also highlighted that regulations are expected to tighten, requiring the de-orbiting of satellites after their operational life.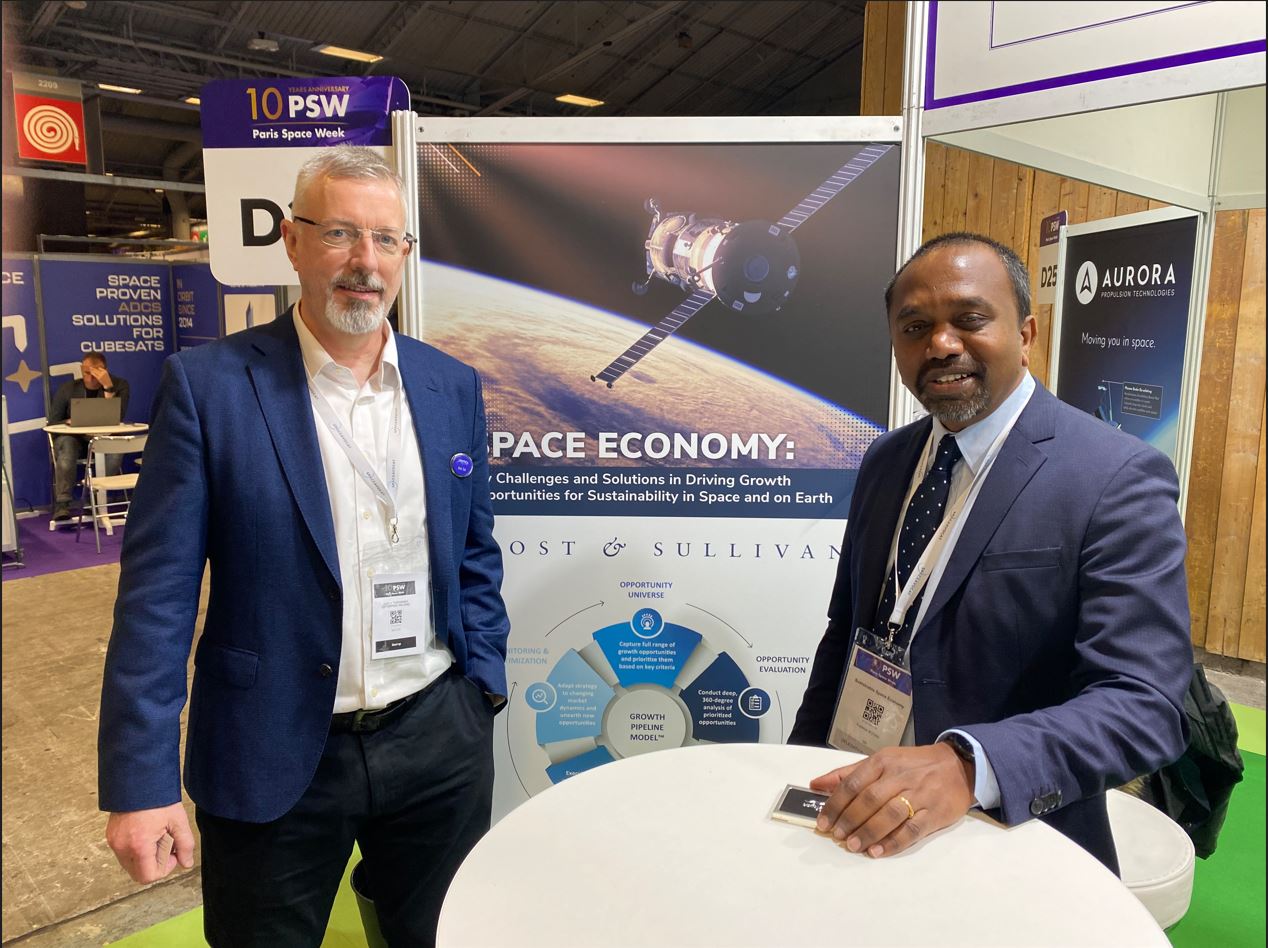 We heard from two innovative companies, Kayhan Space and OKAPI:Orbits, which focused on advanced and automated solutions, building on machine learning and AI to drive space safety, sustainability, and productivity. Hesar from Kayhan Space discussed the urgent need to replace manual and time-consuming solutions with automation tools that can equip satellite operators with better solutions to enhance their safety and resilience and ensure these solutions are also accessible by small satellite operations. One of its leading solutions is the Pathfinder, which reduced the response time to potential collision by more than 95%. OKAPI:Orbits also highlighted the value of its machine-to-machine interface that can drive better integration of operations, increase safety, and enhance the role of AI to boost productivity benefits by a factor of 10x.
As co-hosts of the first Sustainability Space Pavilion at PSW, Sustainability Space Economy and Frost & Sullivan are grateful for the support and participation from AiDash, Aurora Propulsion Technologies, Kayhan Space, OKAPI:Orbits, and Space Whales. We look forward to building on this foundation to drive greater knowledge sharing, collaboration, and partnerships on space and sustainability in space and on earth.