In the era that we live in, customer expectations change according to business propositions and it is not a secret that ensuring profitability from hardware alone is a challenge. Most companies in the IoT industry are not purely hardware companies. With IoT driving new business models, advanced services is arguably a game-changer. As a result, industries and markets are transforming digitally and there is a need for new business service models to be more flexible to constant change.
More than 70% of Fortune 500 companies have plans to offer their product as a service by 2020, following the trend for increased services. Service-based models are crucial and will play a major role in ensuring companies' growth in the future.
Overview of New and Upcoming Study
Frost & Sullivan is working on a new study (K26B-01) (base year: 2017) focused on new service growth opportunities in the analytical instrumentation market (including laboratory analytical instrumentation, process analytical instrumentation, X-ray instrumentation, and microscopy). The project covers services such as laboratory asset management services, radio-frequency identification (RFID) inventory control services, laboratory intelligence services, consulting services, and compliance services. The research will include in-depth insights into key trends as well as an analysis of the market's key stakeholders shifting their business model from selling hardware to more service-based offerings.
Thermo Fisher Scientific, Agilent Technologies, Shimadzu Scientific, Perkin Elmer, and Waters Corporation are some market participants that the study will cover for advanced services in the analytical instrumentation market. Analytical equipment manufacturers are increasingly offering multi-vendor service. For instance, Agilent has a separate division called "Crosslab" and Perkin Elmer has "One Source" to provide multi-vendor services to its competitor's instruments. Multi-vendor services such as laboratory asset management are in demand because customers are looking for consolidated suppliers that can service all the instruments in their laboratory.
In some cases, existing inventory remains unused between 15–90 percent. Therefore, asset management is an important, growing area in the analytical instrumentation industry. There is a need to provide the right-sizing of lab assets across their lifecycle. However, many labs continue to undervalue the significance of continuous instrumentation monitoring. Asset management offerings are enhancing operational efficiency across all enterprise-networked laboratories. Furthermore, customers are willing to adopt asset management services due to the clear cost savings and operational improvements. As a result, leading OEMs are making significant investments in tools to deliver these services and market leaders are establishing easily deployable RFID technology for laboratory equipment management.
Several new services in the analytical instrumentation space are driven by the rapid emergence of the cloud. There are several benefits to including wireless connections in analytical instrumentation and leveraging the cloud. As more analytical instrumentation routines are now wirelessly connected, analytical instrumentation can upload data to a central database managed by the service provider.
The value from a service-based business is expected to come from the need to monetize decision making and intelligence extracted from the data produced by a platform-centric business model that effectively integrates field devices, software analytics, data, algorithms, and cloud, thus driving industry transformation and reinventing the value proposition. Moreover, it is essential for companies to understand the convergence aspect in the market and the need to redefine their existing business propositions.
Some of the key areas and questions the new upcoming study will focus on, are the following: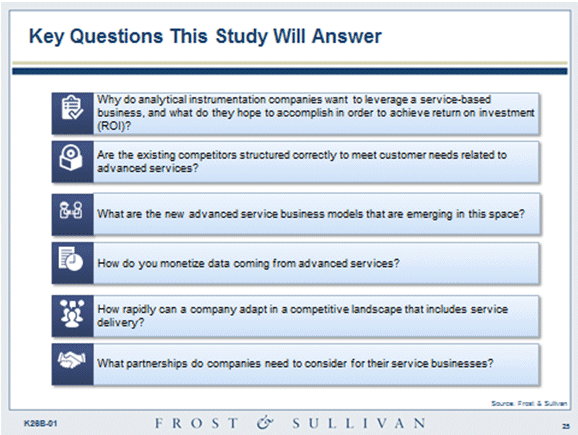 Conclusion
There is a clear need for companies looking for a new service business model to have a well-defined vision in terms of current customer requirements, required latest technology, realignment of resources, and the best approach with new service delivery. Identifying new growth opportunities beyond the existing business will help to change the way organizations are run; an entirely new service business model could dramatically change the competitive landscape and the resultant growth will be exponential.