The aluminum FRP market in Southeast Asia is expected to be immensely impacted by the COVID-19 outbreak. Aluminum Index prices have weakened globally during Q1 2020, London Metal Exchange (LME) prices have dropped exponentially since January 2020 and reported prices now stand at $1,450/t as of April 2, currently at a three-year low. Due to the LME drop, there will be a sequential impact on the upstream and downstream industry in the next few quarters. However, the market demand for aluminum FRP is expected to recover in the second half of 2020, with major manufacturers of aluminum in China and other parts of the world restarting operations in Q3 2020.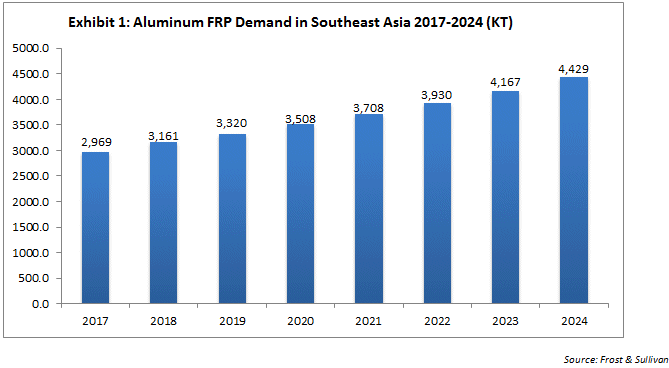 Demand by End-user Segments
According to Frost & Sullivan's analysis, building and construction (B&C) was the largest end-user segment for aluminum FRP in 2019; HVAC (residential and automotive) was the second-largest end-user of aluminum FRP. Others in the end-user segment include consumer durables, kitchen utensils, transportation, storage, and marine.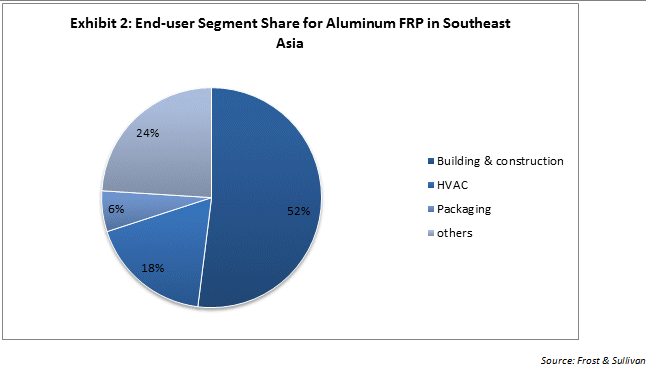 Competitive Scenario
Choil Aluminum (South Korea), Novelis Korea, PT Alumindo (Indonesia), Hindalco (India), and UACJ (Japan & South Korea) are some of the major suppliers of aluminum FRP in Southeast Asia. They cater to about 60% of the region's demand and dominate the market production of aluminum FRP in the region, which has grown rapidly since 2015. The production in Japan is driven by the expansion of major players like UACJ. For instance, UACJ (Thailand) Co., Ltd. was established as Southeast Asia's first flat-rolled aluminum manufacturing facility, integrating all processes from casting to finishing. Since then, the company has steadily boosted annual production capacity to 320,000 tons. Similarly, Novelis Korea, a major manufacturer of aluminum FRP in the region, has made continuous investments to promote sustainability in the aluminum industry. Initiatives from suppliers to expand capacity utilization and enhance sustainability will promote market growth during 2020-2024.
What are the Key Factors Pushing the Market?
Impact of Coronavirus on Global Aluminum Trade
The COVID-19 outbreak has had a severe impact on the metals and minerals industry in Southeast Asia. China is the largest metals consumer and producer in the world, contributing nearly half of the total global demand and supply. This outbreak has affected imports and exports. It has also led to port congestion and disruption of transport from ports to mills and smelters, thereby adversely affecting the production levels after March.
Increasing Demand for Aluminum in EV
The content of cast aluminum decreased in EVs, while the overall content of aluminum increased due to higher usage of flat-rolled products and extrusions. Manufacturers prefer aluminum over steel due to its weight. Hyundai Motors' roadmap indicates that it will produce 38 types of eco-friendly cars by 2025. Increased demand from automotive OEMs has resulted in capacity expansions by battery manufacturers with uptake in order bookings. This increase in battery order bookings will spur the demand for aluminum battery casings in South Korea. In India, electric cars, which currently account for less than 0.1% of the passenger car market, are expected to grow to a penetration level of 4.5% by 2025, driven by new product launches, government push for cleaner vehicles, stringent emission norms, and government incentives for both customers and manufacturers. Mild hybrids and battery electric vehicles will account for more than 75% of the market in 2025.

Aluminum, Balancing the Low-carbon Equation
Stakeholders in the worldwide aluminum value chain are the frontrunners in terms of the initiatives taken to reduce carbon footprint. According to Novelis, the company globally recycles more than 70 billion used beverage cans each year, turning them back into new beverage cans in roughly two months. As a lead supplier to many of the large automotive manufacturers, Novelis created the first and largest closed-loop recycling system in the world. Closed-loop recycling allows it to take back as much aluminum scrap as possible, turning it back into the same product. The increased emphasis on recycling will also boost economies of scale in the aluminum industry.
Key Barriers to Market Growth
OEMs Focusing on Mass-market Models to Boost EV Portfolio
OEMs are placing a greater emphasis on mass-market EV models to promote the adoption of EVs among global consumers. Aluminum is a premium metal compared to steel in terms of pricing. Economies of scale of aluminum are also not as high as steel. Thus, OEM manufacturers are switching back to steel for their EV portfolio. Steel manufacturers have also created innovative, lightweight and strong steel products such as high-strength and low-weight steel, advanced high-strength steel (AHSS), ultra-high-strength steel (UHSS), and press hardenable steel (PHS). This has resulted in the decline of aluminum consumption in the automotive industry. Steel is also preferred by EV manufacturers to achieve weight reduction, recyclability, and economic efficiency. For instance, BMW will construct its model i5 in steel and light alloys from 2021, rather than using aluminum, which was prevalent in the i3 model. These factors might affect the consumption of aluminum in the automotive industry, especially due to the ongoing EV revolution.
Asian Markets Flooded by Completely Built Units, Chinese Imports and Aluminum FRP
Aluminum is used in high-end smartphones. Most consumers in emerging economies like Taiwan and Vietnam prefer buying mid-range smartphones, which are generally made from plastic. Imports of high-end mobiles and other electronic devices at a low cost from China could limit the attractiveness of setting up a domestic production base by global electronic device manufacturers. Even Taiwan-based, large-scale electronic manufacturers currently have plants in countries like China, which results in large imports on finished mobile phones, thereby hindering domestic aluminum demand despite increasing mobile sales in Taiwan.
Southeast Asia Aluminum FRP Market Forecast
According to Frost & Sullivan's analysis, the aluminum FRP market in Southeast Asia is expected to register a CAGR of 5.9% from 2019 to 2024. The industry witnessed moderate growth in 2019 due to various factors such as persistent global overcapacity, cut in domestic production, exploding imports and weaker demand from end-user industries. However, the demand for packaging (foils) is expected to be driven by increasing consumer inclination toward packaged foods in the region. Similarly, demand for ACP sheets, alloys, and circles will be high in the kitchenware, electronics, and buildings & construction industries.
Moreover, the outbreak of coronavirus will also affect trade flow from China, which might boost production of domestic players in other Asian countries. Overall, the aluminum FRP market in Southeast Asia will register a steady growth rate during 2020-2024.
Work done by Frost & Sullivan on COVID-19:
To know more about Frost & Sullivan's analysis on COVID-19 from across the globe – visit https://www.frost.com/insights/covid19/.
Should you have any queries on the impact of COVID-19 across industries, or need more information or would like to schedule an interview/interaction with our spokespersons, please email Srihari Daivanayagam at Srihari.Daivanayagam@frost.com.