Customers are increasingly looking for products that are easier to apply, lighter in weight and regulatory compliant, finds Frost & Sullivan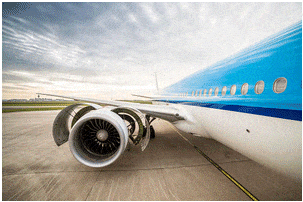 Current and evolving growth prospects in the global aerospace adhesives and coatings market look promising over the next six years. Frost & Sullivan's analysis forecasts the market to reach $1.90 billion by the end of 2024, driven by an increasing need for lighter materials, investment in technically advanced products, evolving regulations, and high-volume demand for new and refurbished aircraft.
"While manufacturers are increasingly investing in product development to enhance environmental sustainability and product efficiency, customers are seeking out products that are easy to apply, highly durable, quick drying, lighter in weight, environmentally sustainable, and regulatory compliant," said Christeena Thomas, Senior Research Analyst, Chemicals and Materials, EIA at Frost & Sullivan.
 For further information on this analysis, please visit https://frost.ly/2vs
Merger and acquisition activities are expected to continue, with global companies acquiring small manufacturers to access their products, technical competences, distribution channels, and customer bases. To gain a competitive advantage, Thomas recommends manufacturers invest in developing adhesive formulations that are superior in properties such as durability and UV resistance and compatible with multiple substrates while exhibiting reduced overall weight after application.
Key trends creating growth opportunities in the market include:
A boost in unmanned aerial vehicle demand in commercial, defence, and general aviation segments due to decreased technology costs
High demand for adhesives and coatings in the defence and aerospace segments in the Asia-Pacific and Rest of World countries with increased investments in domestic manufacturing and operations
Customer demands for newer, high-performance adhesives and coatings
Growth in defense spending in the aerospace sector due to changing global economic conditions
Growing demand for adhesive and coatings formulations that are compatible with robotic applications
Replacement of traditionally used heavy fasteners with lighter-weight adhesives
"Programs such as Registration, Evaluation, Authorisation and Restriction of Chemicals (REACH) in the European Union, US Environmental Protection Agency (EPA), and Federal Aviation Administration (FAA) are expected to increase the research and development and transaction costs that businesses incur when developing and distributing new types of chemical compounds," noted Thomas. "In addition, extensive testing, verification, and approval cycles delay product launches, resulting in significant time and costs for material suppliers."
Growth Opportunities in the Global Aerospace Adhesives and Coatings Market, Forecast to 2024 market intelligence identifies disruptive market and technology trends, drivers and restraints, market share and competitive analysis. Percent unit shipment forecast by technology, application, chemistry, and end-industry for Europe, North America, Asia-Pacific and Rest of World are also provided.
Growth Opportunities in the Global Aerospace Adhesives and Coatings Market, Forecast to 2024 is the latest addition to Frost & Sullivan's Visionary Science research and analysis available through the Frost & Sullivan Leadership Council, which helps organisations identify a continuous flow of growth opportunities to succeed in an unpredictable future.
About Frost & Sullivan
For over five decades, Frost & Sullivan has become world-renowned for its role in helping investors, corporate leaders and governments navigate economic changes and identify disruptive technologies, Mega Trends, new business models and companies to action, resulting in a continuous flow of growth opportunities to drive future success. Contact us: Start the discussion.
 Growth Opportunities in the Global Aerospace Adhesives and Coatings Market, Forecast to 2024
MDED_39
Contact:
Jacqui Holmes
Corporate Communications Consultant
E: jacqui.holmes@frost.com
https://www.frost.com
LinkedIn: Future of Chemicals