By Byron Messaris, Senior Consultant, Frost & Sullivan
Welcome to the 21st century, where connectivity is ubiquitous, the automotive industry edges closer than ever to real-world ready advances in autonomous driving, and the technology underpinning it all couldn't be more hackable.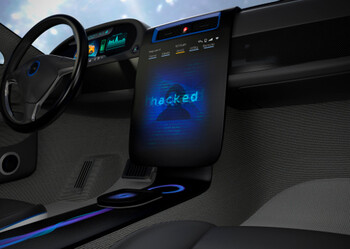 Every day, the number of connected cars coming online expands. The growing use of software and high-level operating systems in vehicles increases opportunities for hacking, which, globally, has become more sophisticated and mission-orientated.  This represents a significant challenge for risk-adverse automakers as they grapple with the implications of the emergence of new threat vectors in connected cars.
Car Hacking Becomes Smarter and More Sophisticated
By 2025, 80% of new cars sold in Europe will be connected while, in the US, this number goes up to 90%. In the commercial transport sector, penetration of telematics in trucks will gradually grow to reach about 55% in North America and 43% in Europe by 2025.
These trends create not only business challenges for the industry, but also some very unique opportunities. The most immediate of these is in providing security solutions for connected vehicles.
In the era of cyber insecurity, automakers have learned that they'll need to look outside their organisations for innovative solutions. The industry has been seen to be slow to develop the necessary in-house capabilities for addressing some of the industry's most pressing of cybersecurity challenges.
Further factoring in the developments in autonomous driving technology, and the implications of inadequately secured – and subsequently compromised – systems, only serves to elevate the level of threat. While autonomous will push the frontiers of personal travel and commercial transportation, it will open arguably the largest threat field in global transport.
Unique Automotive Cybersecurity Solutions Come to the Fore
Established and emerging market players are aware of the operating security gaps in these technologies and are increasingly partnering with companies across the security space to adopt security-by-design solutions.
To reach the levels of security required, automakers will need to budget for state-of-the-art technology solutions if they are to protect vehicles and ensure customers' trust.
Providing a positive security solution is required, one with sufficient active protection in a comprehensive multi-layer security solution, simultaneously considering the unique safety requirements of vehicles. The solution's fundamentals should be designed on the basis that the system will be penetrated in ways that were not perceived when the vehicle was designed, and therefore rely on compelling countermeasure-based technology in machine learning. Protecting vehicles against known and unknown threats is where Frost & Sullivan sees winning solutions emerging.
As the changing landscape of threats evolves, so do the players within them. New companies and partnerships have emerged in the automotive security space with compelling and unique value propositions, technology leadership and solutions, such as SafeRide Technologies and Irdeto.
SafeRide have developed technologies that, beyond the deterministic and rule-based intrusion detection and prevention of known threats, profile vehicle behaviour and detect anomalies that expose unknown vulnerabilities by using artificial intelligence (AI) and machine learning. When a new vulnerability is detected by SafeRide's vSentry™ AI module, preventative actions, including security rules or firmware updates, can be taken.
Additionally, SafeRide's strategic partnership with Irdeto adds software protection capabilities to the package, making SafeRide's vSentry solution one of the most comprehensive and advanced cybersecurity solutions for connected and autonomous vehicles.
Scalable, Innovative and Effective Solutions Show the Way Forward
As security and privacy become paramount in a connected and autonomous universe, automakers will need to collaborate with automotive cybersecurity companies to design innovative solutions that purposefully and preemptively tackle security vulnerabilities.
Ultimately, the ability to deploy effective and scalable automotive cybersecurity technology and systems will determine how secure vehicle connectivity and autonomy will be as the automotive industry ventures into the next frontier of transport.
About Frost & Sullivan
For over five decades, Frost & Sullivan has become world-renowned for its role in helping investors, corporate leaders and governments navigate economic changes and identify disruptive technologies, Mega Trends, new business models and companies to action, resulting in a continuous flow of growth opportunities to drive future success. Contact us: Start the discussion.
Contact:
Kristina Menzefricke
T:+44 (0) 208 996 8589
E: kristina.menzefricke@frost.com