LED solution providers to explore unconventional application areas as general lighting applications near saturation, finds Frost & Sullivan
SANTA CLARA, Calif. – December 3, 2018 – The declining price of light emitting diode (LED) sources and the subsidies for LED in several countries have i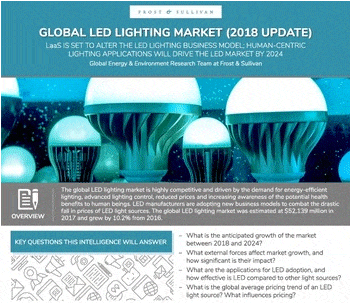 ncreased the solution's attractiveness in application segments where it was previously considered prohibitive. The advent of Internet of Things (IoT) and subsequent introduction of new business models such as Lighting-as-a-Service (LaaS) has eliminated the need for high upfront payments, allowing the market to shift to an OPEX model. The leasing model has enabled large-scale installations of LED light, as well as their adoption in the residential segment.
Frost & Sullivan's recent analysis, Global LED Lighting Market (2018 Update), offers a detailed analysis of the market, covering the application segments of residential, retail, architectural, outdoor, office, industrial, and hospitality. The study also focuses on the technology roadmap, distribution channel by application, price trends, and growth opportunities, and provides a breakdown of revenue in the regions of North America; Europe; Latin America; the Middle East and Africa; and Asia-Pacific.
For further information on this analysis, please visit: http://frost.ly/2xo
"IoT has established a highly complex ecosystem of connected lighting for better energy and cost management," said Dennis Marcell Victor Senior Research Analyst for Energy & Environment at Frost & Sullivan. "Lighting will transition from illumination-based applications to data-enabled services that offer a rich end-user experience. Data transmission through visible light spectrum will even complement existing data transfer technologies like Wi-Fi, and augment indoor connectivity. Early-mover lighting companies that offer intelligent lighting services will be best positioned to monetize the LaaS model."
In addition to reduced costs and novel business models, the LED lighting market has received a huge boost from the rising awareness of the health benefits of LED.
"LED lighting allows users to control the solution's luminous intensity to suit the environment and occupants," noted Victor. "Companies in North America are already working on LEDs that have less blue light to improve human health and productivity."
Owing to these product benefits, the global LED market is expected to grow at a compound annual growth rate of 8.96 percent between 2017 and 2024, in spite of the challenge from compact fluorescent lamps (CFLs). The most promising growth opportunities will lie in:
Improving power efficiency through integrated control devices. Incorporation of sensors will help control dimming, phase dimming, and color mixing to create a better light experience for customers.
Acquiring niche service providers to expand product portfolio.
Using innovative material to enhance device efficiency and light output, and replacing expensive substrate materials with cheaper alternatives.
Expanding the application scope of the solutions to cover unconventional uses human health, medicine, and horticulture.
Global LED Lighting Market (2018 Update) is part of Frost & Sullivan's global Homes & Buildings Growth Partnership Service program.
About Frost & Sullivan
For over five decades, Frost & Sullivan has become world-renowned for its role in helping investors, corporate leaders and governments navigate economic changes and identify disruptive technologies, Mega Trends, new business models and companies to action, resulting in a continuous flow of growth opportunities to drive future success. Contact us: Start the discussion.
Global LED Lighting Market (2018 Update)
MDEF-19
Contact:
Jaylon Brinkley
T) +1 210 247 2481
E) jaylon.brinkley@frost.com