Mersive Awarded Product Line Strategy Leadership Award for Wireless Content Sharing by Frost & Sullivan
Its Solstice software enables easy-to-use wireless content sharing for a range of platforms as well as secure centralized monitoring, management, and analytics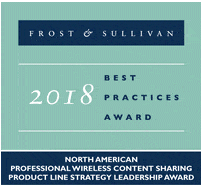 SANTA CLARA, Calif. — November 8, 2018 — Based on its recent analysis of the North American professional wireless content sharing market, Frost & Sullivan recognizes Mersive Technologies, Inc. with the 2018 North American Product Line Strategy Leadership Award for its Solstice software which facilitates wireless content sharing and control from any PC, Mac, Android, or iOS device. Mersive helps its customers correctly size their installations in line with their software, hardware, admin, and user distribution requirements, catering to different network topologies and physical meeting environments.
"Solstice is available both as the software that powers the Solstice Pod—a small, turnkey device for meeting rooms that lack collaboration hardware and for bring your own device (BYOD) environments—and as a Windows software download for existing in-room PCs," said Robert Arnold, Principal Analyst. "Solstice consistently offers myriad functionalities, enabled by enterprise-grade network security, including: support for any number of users sharing any amount of content from any device; support for native iOS screen mirroring; customizable display layouts; multi-touch display support; and configurable sharing options, access control, and use modes."
Two of its most notable features are the Solstice Dashboard and Solstice Discovery Services (SDS), which deliver unmatched management and control capabilities. While the Solstice Dashboard provides centralized administrative capabilities to batch configure, manage, and control Solstice endpoints across an organization's environment, SDS streamlines activities for Solstice users.
Further, the Solstice OpenControl application programming interface (API) provides opportunities to integrate with third-party solutions for improved user experience and management. It enables unique integrations, such as with room control systems, video and audio-conferencing platforms, as well as calendar and resource scheduling software, to ensure that multi-vendor technologies work seamlessly to support established workflows. These product advantages have earned Mersive a client base of more than 4,000 organizations worldwide, including nearly three dozen Fortune 100 companies.
"While perfectly suited for small-scale requirements, Solstice's numerous optional functionalities ensure it finds significant application in large-scale deployments as well. Mersive also just released its Kepler cloud-based software tool, which will deliver Solstice monitoring and diagnostic tools, alerts, usage reporting and other analytics, as well as customizable configuration tables empowering technology and facilities managers to make data-driven planning and budgeting decisions about meeting spaces," noted Arnold. "Overall, Mersive empowers both admins and users by allowing them to choose from a variety of user capacity options, license editions, network connections, admin interfaces, third-party integrations, and pre-built features tailored for business and education environments.
Each year, Frost & Sullivan presents this award to the company that has developed a comprehensive product line that caters to the breadth of the market it serves. The award recognizes the extent to which the product line meets customer base demands, and the overall impact it has in terms of customer value and increased market share.
Frost & Sullivan Best Practices awards recognize companies in a variety of regional and global markets for demonstrating outstanding achievement and superior performance in areas such as leadership, technological innovation, customer service, and strategic product development. Industry analysts compare market participants and measure performance through in-depth interviews, analysis, and extensive secondary research to identify best practices in the industry.
About Mersive Technologies, Inc.
Mersive's Solstice wireless collaboration solution boosts productivity by putting content at the center of the meeting experience. Participants are more engaged because Solstice's intuitive, software-based interface makes it easy for any number of users to share content from any device. Moreover, corporations and universities can securely deploy the solution across locations and centrally manage them from a single console. Find out more about Mersive.
About Frost & Sullivan
Frost & Sullivan, the Growth Partnership Company, works in collaboration with clients to leverage visionary innovation that addresses the global challenges and related growth opportunities that will make or break today's market participants. For more than 50 years, we have been developing growth strategies for the global 1000, emerging businesses, the public sector, and the investment community. Contact us: Start the discussion.
Contact:
Estefany Ariza
P: 210.477.8469
F: 210.348.1003
E: estefany.ariza@frost.com
Katie Boertman
kboertman@mersive.com