The scope of IIoT is vast and can be applied across different stages of pharma value chain. IIoT can find its applications in pharma right from research and drug discovery to manufacturing supply chain to sales and marketing and finally in patient experience. The following chart is an illustration of some of the numerous ways in which IIoT can be beneficial to the pharma industry, across the manufacturing value chain.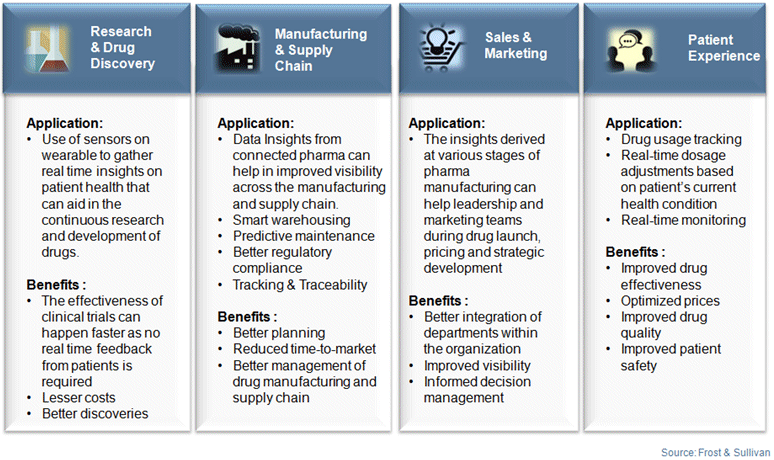 Application of IIoT in pharma manufacturing has thus helped improve overall productivity across all manufacturing stages and has resulted in improved pharma vigilance and regulatory compliance. From speedy delivery of higher quality into the market to making sure that the drugs have been safely transported to ensuring better feedback monitoring, IIoT is gradually becoming more essential for pharma companies.
The benefits that can be derived from the implementation of IIoT in pharma are many. A connected factory can help connect different elements of the manufacturing business including production, supply chain and distribution. This can be achieved by being able to continuously monitor plants, thus having more control over quality, eliminating wastage and counterfeiting, and being able to comply to the mandatory regulations and standards that have been laid down by the government authorities and other regulatory bodies. This entire framework relies upon the cornerstones of IIoT framework including sensors, storage, and analytics, which have been well integrated to allow seamless data flow. Though pharma manufacturers can do more with IIoT, the following are some of the areas where IIoT can currently and in future be able to make a significant difference to the pharmaceutical manufacturing business.
Drug Manufacturing
Drug manufacturing processes and workflows are often complicated and involve several parameters. Drug manufacturers have to monitor numerous variables to make sure that the chemical composition of drugs remains unaltered and homogeneous at all times, across all production batches. Without streamlining this, the production process can turn into almost a nightmare for the pharmaceutical manufacturing company. Moreover, this regulated and non-stop flow of data from connectivity enables continuous process improvement through generation of valuable insights. Other benefits can be attributed to more effective inventory management and lower equipment downtime.
Product Quality
In the recent past, there has been a huge spike in the number of ad-hoc quality inspections that have been conducted by regulatory bodies in the factories of different pharma companies. This in turn has driven several companies to invest in good quality practices that can help minimise manual intervention across several stages of the pharma manufacturing chain.
Product Development
The pharma industry constantly faces challenges in making drug development increasingly efficient. Companies constantly strive in boosting productivity by keeping costs as minimal as possible. This required the use of suitable technologies and infrastructure such as IIoT to keep processes as optimal as possible.
Supply Chain
Temperature sensitive medicines and vaccines are necessarily required to be stored and monitored at prescribed temperatures. Sensors attached to these drug containers come a long way in offering real-time monitoring of temperature and associated parameters that are necessary to maintain the integrity of these drugs. Any instance of unfavorable modification of drug composition needs to be communicated and rectified. The drug's position in the supply chain can thus be logged can be analysed to understand insights that could help in safer transport of drugs.
Collaboration
The data being generated in this connected environment are extremely important to all the stakeholders in the manufacturing value chain. These data could be shared with regulators and other governing authorities readily without having to go through several offline data logs. The data are also easily available to the different value chain participants irrespective of their position or location in the manufacturing value chain. This ensures faster and more effective collaboration among personnel separated by different geographies.
Better patient outcomes
Optimized manufacturing processes, reduced downtimes, improved productivity, and reduced costs can allow drug manufacturing companies to offer vital lifesaving drugs at reduced prices. This is an extremely beneficial move toward affordability of drugs. Furthermore, IIoT helps with improved collection and management of patient feedback.
Beyond these immediate benefits, the pharma sector can also rely on IIoT to gather insights across the value chain to streamline it. An investment in IIoT opens the door for all stakeholders to benefit. From bringing drugs of higher quality into the market faster to ensuring safer transport of drugs and better feedback monitoring, IIoT is turning into a vital ally for pharma companies.
IIoT may actually be at a nascent stage of development, but its indisputable impact across all facets of the global healthcare space cannot be denied. A wide range of applications across different stages of the manufacturing value chain will allow IIoT to transform the industry and make a potential and valuable shift toward an affordable, accessible, and quality healthcare ecosystem. As IIoT turns mainstream, there is tremendous opportunity to technologically upgrade business processes and drive collaboration and monitoring beyond what was possible until now. Drug manufacturing companies should necessarily evaluate the risk of doing nothing against ever-changing consumer needs and stringent regulatory expectations as also the changing market dynamics. The time is right for pharmaceuticals companies to accelerate their implementation and utilization of IIoT platforms and solutions.